Hello vascular world, Manny here...exhausted, but still alive.
Today was the 1st day of the 2011 SVU Annual Conference. And...it was awesome. Lots of information. Lots of new people to meet. It seems like people are really getting a lot of enjoyment and education out of the sessions.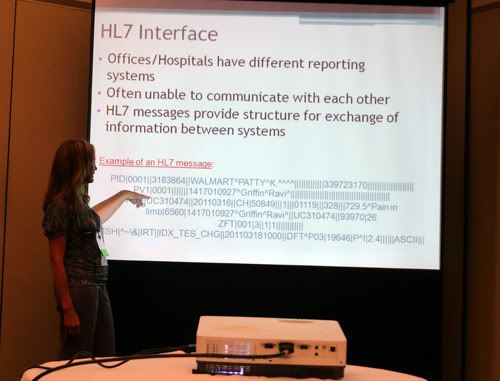 The day started out at 7:00am with the concurrent tutorials. There were 4 great tutorials going on at the same time, so I chose the Data Management session since it was interesting and I wanted to show some love to Laurie Lozanski (one of my teachers at Rush University!).
Great turnout for the tutorials.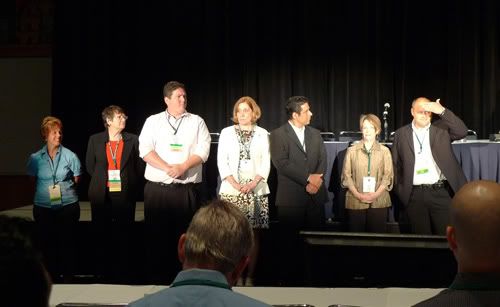 At 8:30am the SVU General Opening Session began in an extremely large ballroom. The first business of the day was a warm welcome and opening announcements by Paula Walsh. The candidates for the 2012-2013 SVU Board Officers were introduced and included Tish Poe, David Parlato, LeAnn Maupin, Joseph Hughes, and Patricia Marques. Candidates for 2012-2014 SVU Board Technologist Directors were introduced as well and included Kelly Byrnes, Nathalie Garbani, Megan Hodge, and Patrick Washko. I think they were all there, but I'm honestly not sure.
After that we had an awesome presentation about plaque characterization and IMT studies by Dr. George Meier, Jean Alessi-Chinetti, Dr. Joseph Polak, Dr. Steven Feinstein, and Dr. Alan Lumsden. They are all really on the cutting edge of this technique (and they've been doing it for a LONG time too). The technique itself was a lot more involved than I thought. Dr. Feinstein's presentation on using contrast with duplex imaging was extremely exciting. Dr. Feinstein perhaps uses contrast in ultrasound studies more so than anybody else in the world. With contrast we are able to see micro neovascularization of plaque. It is the goal that these studies can someday help us to use intimal media thickening to predict atherosclerosis severity.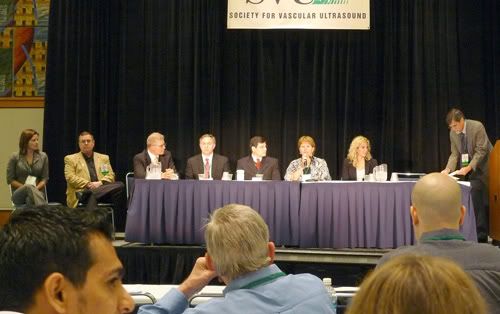 After a quick break, the D.E. Strandness, MD, Scientific Session began at 10:45am. Dr. Elisa Greco, Karen Marr, Dr. Fabio H Menezes, Frank Miele, Dr. Francis J. Porreca, Robert Scissons, and Elizabeth Wooster all had great presentations. Dr. Porreca's presentation of 3D reconstruction of cerebrovascular vessels was really cool. Robert Scissons made a great point about whether velocity criteria should be updated now that our gold standard, angiography, was being used less and less in favor of CTA. And according to Frank Miele, the next time you interview an applicant to your ultrasound school, you should ask them if they can play an instrument.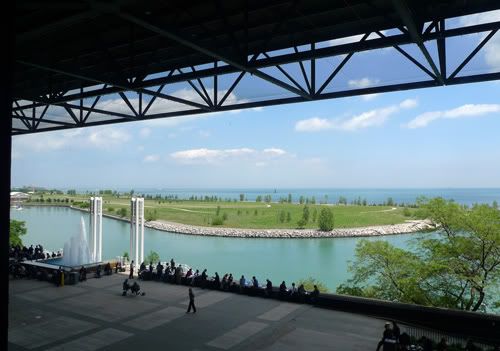 The day started out wet and rainy, but later it got pretty nice.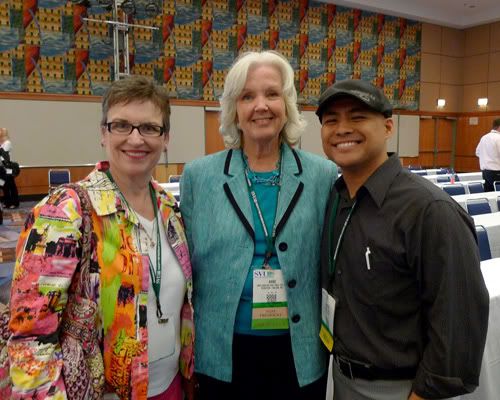 Today one of my teachers at Rush University (Donna Blackburn) graciously introduced me to Anne Jones from North Carolina. Last year I was very fortunate to receive the 2010 Anne Jones Scholarship which helped a lot with tuition. To finally get to meet her in person was really amazing and I have nothing but deep appreciation for her. If it wasn't for Anne Jones, I'd still be eating cup of noodles everyday (actually I still do that). :)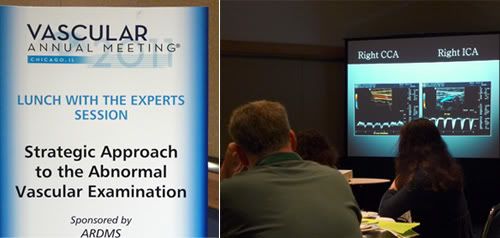 The Lunch with the Experts session was really great as well.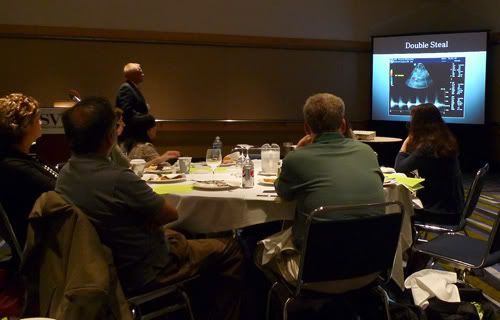 The presentation, Strategic Approach to the Abnormal Vascular Examination, was given by Dr. Wayne Smith. He had some really unique cases.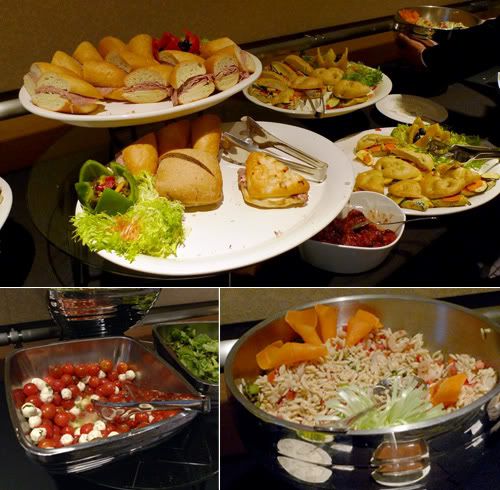 The food wasn't bad either! There were sandwiches, roasted sirloin, shrimp with orzo pasta, fresh rolls, roasted vegetables, brownies, and even a tomatoes with mozzarella balls salad.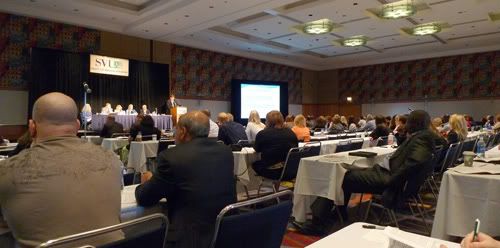 After lunch the presentations started up again at 2:00pm. The presentation was focused only on venous studies and presenters included Dr. John Mauriello, Joe Zygmunt, Barbara Poule Shulze, Dr. Mark Meissner, Jeannie White, and Diana Neuhardt.
The final session of the day was with Dr. Bart Muhs, Marsha Neumyer, and Dr. Alan Hirsch who talked about arterial peripheral vascular disease.
****
At 5:30pm the Vascular Annual Meeting Opening Night Reception began in the Exhibit Hall and it was a blast. It was a really a great way to check out some awesome vendors, meet new people, and just hang out.
There was an acappella group (with a slight resemblance to 90's band Color Me Badd) providing entertainment at the Exhibit Hall.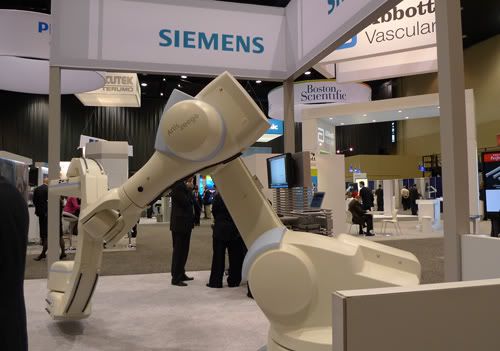 Lots of great product information.
Compression stockings...you too can be vain while taking care of your...veins.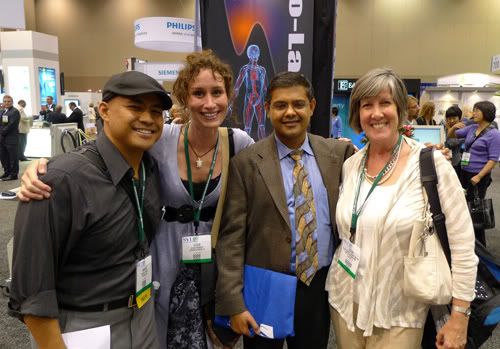 Here is my schmoozing buddy Alicia Formato along with Dr. Gupta of North Shore Hospital and Eileen French-Sherry of Rush University.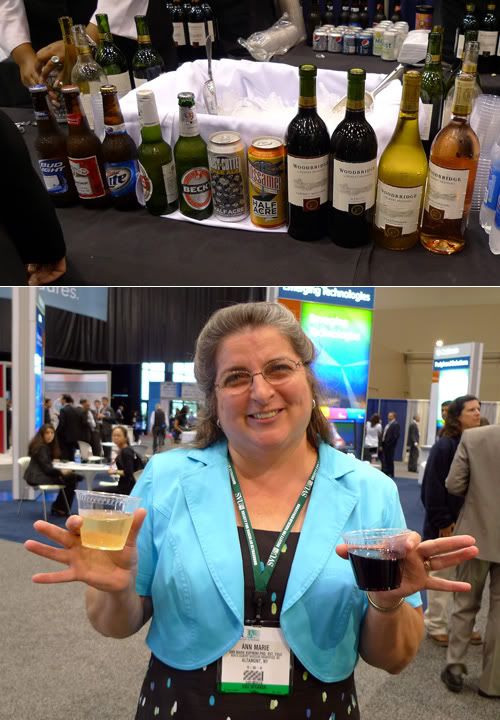 There is a 2-drink minimum when hanging out with Ann Marie Kupinski. :)
Lots of great hors d'oeuvres.
We got to meet Dr. Flora Katznelson who was checking out the reception as well. We also got to meet other doctors including Dr. George Hamilton of the Royal Free Hospital in England.
****
All in all...not a bad 1st day. What's really crazy is that I have to be up at 6:00am to do it all over again. Hope everyone is doing well and having a great time.
Cheers,
Manny :)