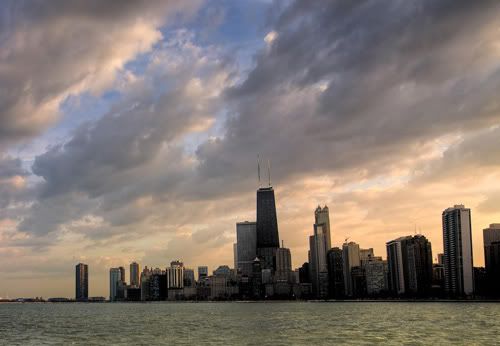 Hello vascular world!
Today I'm going to talk about Chicago's interesting weather. First I have to say that I'm from California and that I'm not going to sugarcoat it. Chicago is in an area of the midwest where it experiences all four seasons in full force. Chicago gets it all: crazy winters, humid summers, rainy springs, etc. Chicago also experiences "the lake effect" since it is located next to Lake Michigan. It simply means that it's cooler near the water (great in the summer, bad in the winter).
To further describe Chicago weather, let me talk about the vocabulary I've learned since moving from California. Here's new vocabulary I've learned:
In Chicago they say
"pop"
. In California we say soda.
In Chicago they say
"gym shoes"
. In California we say sneakers.
In Chicago they say
"bookbag"
. In California we say backpacks.
In Chicago they say,
"It's nice out!"
. In California we NEVER say,
"It's nice out!"
WHY? Because it's ALWAYS nice out. Hahahahahaha.
****
The weather for 2011 so far has been very interesting. On February 2nd, 2011 Chicago experienced its third worst snowstorm in history when 20.2" of snow fell onto the city. Spring also went on vacation this year and never came back. Last week the temperature went from 96 F on Tuesday to 52 F on Thursday. What is going on here? Is Chicago boycotting the sun? Sometimes I feel like I'm going to develop vitamin D deficiency. :)
So during the 2011 SVU Annual Conference, the weatherman (or woman) says the weather will be:
When I used to work at Disney (a long time ago), I always encouraged our guests to visit Disneyland when it rained. I told them that because the "look" of the park was dramatic and beautiful in its own way...and it didn't mean it was any less fun. Chicago is the same way. Even in the strangest weather, the people of Chicago thrive and still live life to the fullest.
So when visiting the 2011 SVU Annual Conference this year, think about the activities you will be doing. Some tourists like to bring small umbrellas, but you may need them only for Thursday 6/16 and Sunday 6/19 (both days have a 50% chance of rain). So in conclusion, the weather will probably be a mix of warm weather, random sprinkles of rain, and the sun will drop by once in awhile to say hi. So even though there shouldn't be heavy rain, there may be drizzle and mist which will be not unlike an unruly child with a spray bottle.
But...that's just what the weatherman says.
-Manny :)