Chicago is home to one of the oldest and best improv comedy clubs in the world, The Second City. Opened in 1959 by a group of students from the University of Chicago, The Second City has long been the training grounds for some of the most successful actors, writers, comedians, and directors in the country.
The Second City is the largest training center for improvisation and acting in the country with 13,000 students a year at schools in Los Angeles, Chicago, and Toronto. Cast members tour all over the world providing entertainment and laughter.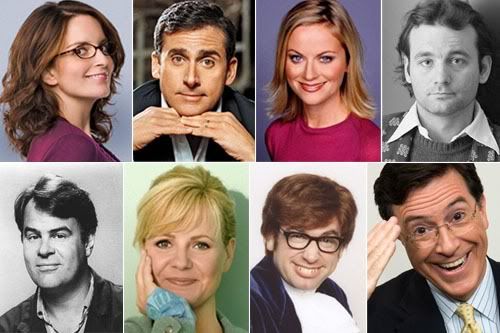 Alumni from The Second City
Some of the most notable alumni from The Second City include Tina Fey, Steve Carrell, Amy Poehler, Bill Murray, Dan Akroyd, Bonnie Hunt, Mike Myers, and Stephen Colbert.
Tina Fey talking about her favorite Chicago restaurants.
So when you visit the SVU Conference this year, here are some entertainment options at The Second City.
1) Take a drop-in improv class ($15).
This is for people who know nothing about comedy and just want to have fun and meet new people. This 2-hour class is different than what they have for serious students. No registration is necessary. Just drop by either Sunday 6-8pm or Wednesday 10pm-midnight.
2) Take a walking tour ($15).
Take a humorous and historic walking tour of Chicago's beautiful Old Town neighborhood. Every Sunday at 1pm and every Wednesday at 4pm.
3) See a show ($16-$22).
Watch a show. June 12th-25th there are shows running every night at 8pm.
*****
For calendar of shows or to buy tickets or reserve a spot on the tour, check out The Second City's website at:
http://www.secondcity.com/
-Manny :)