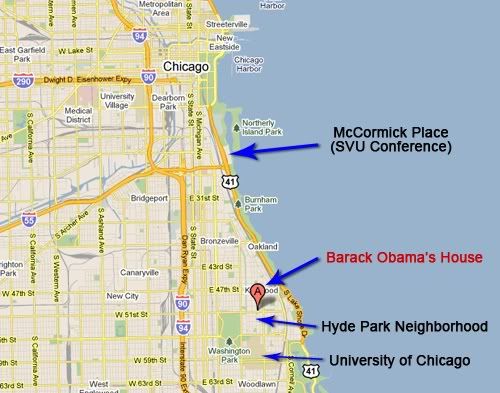 Barack Obama's house is located in the historic south side neighborhood of Hyde Park. It was in this humble neighborhood where the president lived and taught law at the University of Chicago nearby.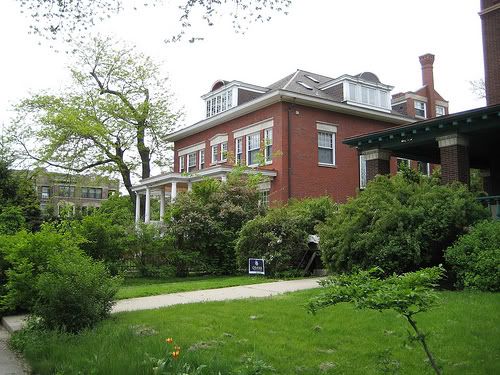 The president's official home address is:
5046 S Greenwood Avenue
Chicago, IL 60615
Unfortunately, the Secret Service keeps tight security around the neighborhood and no one is allowed to drive by the house or even stroll past it.
Despite this, the president's home is now one of the hottest landmarks to visit in Chicago. Some bus companies offer tours of the Hyde Park neighborhood with "stops at Barack Obama's home".
Check out Gray Line Chicago's
"South Shore Tour" ($23)
for a trip through the president's neighborhood:
Gray Line Bus Tours
There is one particular company that may offer a better view of the president's home.
Bobby's Bike Hike
is a company that specializes in touring Chicago on bikes. They have several tours that include sightseeing and even eating.
One particular tour they have is the
Historic Hyde Park Tour ($45)
. The tour starts at 8:30am Friday, Saturday, or Sunday and covers about 22 miles worth of biking. Their stops include the University of Chicago campus, Frank Lloyd Wright's Robie House, and a stop at Barack Obama's house!!!
Even if Barack Obama's house seems unaccessible, many tourists opt for areas the Obama family have been to. Here's the official list of Obama-related sites in Chicago:
Restaurants:

Spiaggia
: The restaurant Barack and Michelle Obama went to on Valentine's Day in 2008. Barack's favorite dish is the wood-roasted scallop.
Topolobampo
: Awesome restaurant by Top Chef judge Rick Bayless.
R.J. Grunts
: A more casual restaurant frequented by the Obamas.
Sepia
: Another fine dining restaurant. A favorite of Michelle Obama.
MacArthur's
: Fine southern cuisine.
Shop:

57th Street Books
: The Obama family spent a lot of time perusing the books in this store. This is also where Barack Obama spent a lot of time studying on Thursdays.
Maria Pinto Boutique
: The first lady is frequently seen wearing design's by Chicago's Maria Pinto.
Do:

Promontory Point
: The Obama family spent a lot of time along Chicago's famous Lake Shore Drive (the lakefront area of Chicago). In 2005 Barack Obama once mediated a dispute on replacing the limestone slabs at Promontory Point.
Chicago White Sox
: The president's favorite baseball team.
University of Chicago
: This is where Barack Obama taught constitutional law from 1992-2004. Michelle Obama also worked there as the Vice President of University of Chicago Medical Center.
*****
When you come for the SVU Conference, why not take a presidential side tour while you're here?
Have a great weekend everyone,
Manny :)